FREQUENCY KEEPERS PRACTITIONER TRAINING
March 1 – 6, 2008


Web Site design by RadianceWeb
Customized Hawaiian Sacred Journeys | Whale watches and Dolphin excursions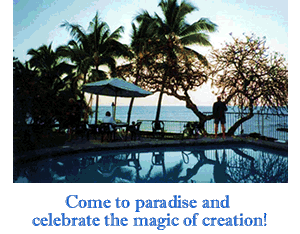 Kona, Hawaii (Big Island)










UNVEILING THE MYSTERIES OF SOUND FREQUENCY

TBA


Join us on magical Hawaii Island as we explore the full harmonic power of our voices. At sacred sites and in the waters of ancient Lemuria we open to our multi-dimensional selves. With Kahealani's rich humor and skilled guidance we learn to transform the frequencies within ourselves and on our planet by holding a new harmony of unconditional love. In this experiential intensive we will:
UNVEILING THE MYSTERIES OF SOUND FREQUENCY

TBA
Receive the teachings of the elders regarding the 2012 doorway and the gateway into Lemuria
Explore the Hawaiian tradition of "La'au kahea", the art of applying Huna to sound to move heaven and earth
Develop a spiritual practice that utilizes toning as a tool for awakening
Activate the blueprint of Ascended Divine Essence
Dance with frequencies at sacred sites on the Big Island
Swim with wild spinner dolphins and sing with the humpback whales



Unrivaled by any instrument, the wisdom and loving presence inherent in the human voice are gifts from Source to us and from us to the planet. Bring the full power and potential of the Voice to your work as a sound practitioner, deepening your understanding of the mystical interplay of the frequencies of all creation. In this training we will:

Discover the sound channels and internal sacred geometry of the body


Develop the "full body" Voice and explore the role of harmonics and
the metaphysics of specific intervals

Explore breathing and other techniques for clearing

Learn the importance and establishment of the Jacob's Ladder

Discuss energy management and the ethics and integrity requirements
of a Frequency Keeper Sound Practitioner

Practice "holding space" from the perspective of Unity
Consciousness/Ho'oponopono

Find how to incorporate sound into your practice as a healer


Kahealani offers to midwife and mentor participants into their unique
expression as Sound Practitioners. Participants will be expected to have
regular follow-up sessions either in person or by telephone.


Pre-requisite: UNVEILING THE MYSTERIES OF SOUND
FREQUENCY or the PINEAL MEDITATION WORKSHOP. An
application is required for those interested in attending the training. Please
contact Kahealani for specific requirements.





---
~~~~~~~~ Moving Heaven and Earth with the Voice ~~~~~~~

For more information and to reserve your space,
please call Judith at 808-987-8099 or e-mail info@frequencykeepers.com
Testimonials | View Galleries | Sample Schedule


Home

Harmonic Healing

Vocal Energetics

Sacred Journeys
Biography

Coming Events

Testimonials

Articles

Links
Contact Judith Lynne