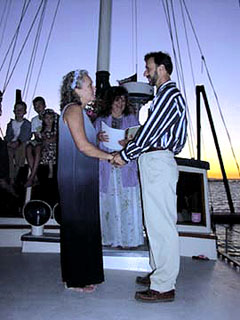 Ministerial Services
As an inter-faith minister licensed in Hawaii through New Thought of Hawaii, Judith Lynne offers the following services:

Guest Speaker Judith Lynne shares her inspiration and wisdom through story and song. She has enjoyed presenting for New Thought, Science of Mind and Unity congregations on the mainland US and in Hawaii.

"Judith Lynne's presentations are filled with the highest expression of love and truth. I can attest to countless souls being changed through being in her presence." -Shannan Powell, RSI practitioner (Agape Church)
Weddings
A wedding is one of life's most sacred events. The vibrational content of the ceremony as reflected in the words that are spoken, the music played and sung and the physical location of the event, casts the seeds that will become the marriage garden. Many couples find special meaning in choosing to wed in the land of "Aloha", Hawaii. Located on the Big Island of Hawaii, Judith Lynne delights in co-creating a ceremony that honors each of the beings involved: the couple, their families and their community.
In co-creating a wedding ceremony, Judith Lynne works closely with the couple to create a ceremony that reflects their values and spiritual beliefs. The ceremony may be as simple or as involved as the couple wishes. Several planning sessions are held either in person or via telephone as is necessary to create and write the wedding ceremony.
Ceremonies and Rituals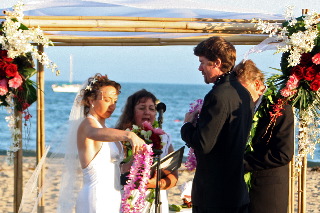 As we dance along our life path, there are passages which are especially significant in our transformational process.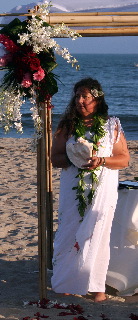 Sometimes it is desirable to create a ceremony or ritual to mark these passages. These passages may include:
Blessingways/birth rituals
Baby naming/welcoming
Menopause
Birthdays
Transitions of any sort, including physical death
Judith Lynne enjoys working with the client to create a ceremony that is meaningful and inclusive, honoring the deeper values of the client and the connection with his/her community. Actively creating ceremonies for the past 35 years, Judith's work has been featured in "Rites de Passage", a series created for television in France and Canada.
---
Judith Lynne lives on the Big Island of Hawaii and travels regularly. For Information on wedding, ceremony and ritual services contact her at
808-987-8099 or email Info@frequencykeepers.com